The EXP Hinge, patented by De Molli and actually fixed on Daily and Ducato, allows the opening of the back rear doors to 270° without using the external checker door.

This patent allowed the automotive industries that use it to reduce their costs, as they got rid of the external checker door and the entire magnets system that is usually fixed on the external and internal sides of the vehicle. This represents an important encumbrance, which is ugly to see and not in compliance with the actual circulation laws (Law R26), that do not allow to fix on the vehicles objects that stick out of a determined amount of mm.

– Furthermore, the inner mechanism of the hinge allows three possible opening movements (90°, 180° e 270°). In this way, the door is stable in each of the three positions without the need of the external checker door that blocks the door at 90° and 180° and without the magnets to stop the door at 270° and that is usually fixed on the side of the vehicle.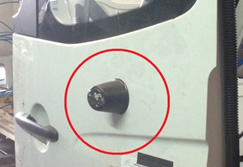 The feeling that is obtained in opening the rear door is amazing, even though it maintain important stops of high load that give stability to each stops. Furthermore, the hinge has been tested until it reached 200.000 cycles and it has never lost its load in the opening and closing phases, giving the security of durability and reliability of the patented system.
The success of this hinge has been showed also with the victory acquired at the IAA Exposition in Hannover with the "Best truck of the Year 2014".
Read or download details about EXP Hinge >